STORE
THE RIGHT OF RIGHTS
The book: The Right of Rights: The United States Constitutional, Natural, Moral, and Absolute Essential Right To Be, by Daniel Henry Devlin.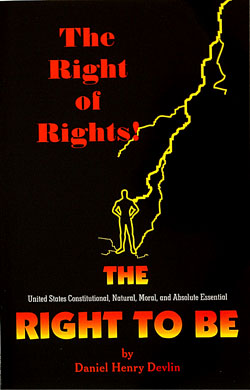 The front cover of The Right of Rights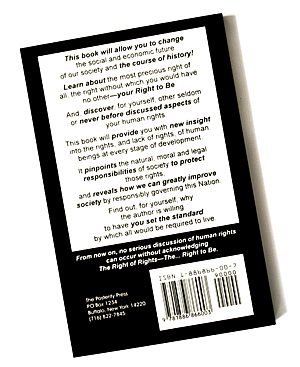 The back cover of The Right of Rights
"This book will allow you to change the social and economic future of our society and the course history!
Learn about the most precious right of all, the right without which you would have no other —your Right To Be.
And discover for yourself, other seldom or never before discussed aspects of your human rights.
This book will provide you with new insight into the rights, and lack of rights, of human beings at every stage of development.
It pinpoints the natural, moral and legal responsibilities of society to protect those rights, and reveals how we can greatly improve society by responsibly governing this nation.
Find out, for yourself, why the author is willing to have you set the standard by which all would be required to live.
From now on, no serious discussion of human rights can occur without acknowledging The Right of Rights —The... Right To Be."
To ORDER: Click the buy now button.
---
NEXT ITEM: A SOLITERY MINUTEMAN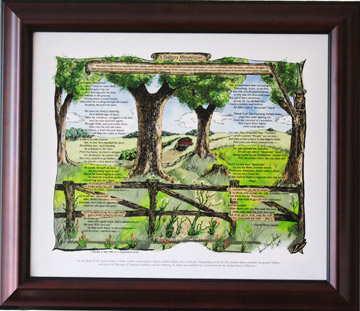 A Solitary Minuteman poem and art
(pictured with Deluxe Frame)
A Solitary Minuteman
Is now available for framing in a 20" x 24" frame
(frame not included)

From the artist/author's original pen and ink drawing, he uses traditional and digital techniques including archival inks enhancing color and detail.
Framed works may be available through special order. Please email: Info@FundamentalHumanRights.Org for further information.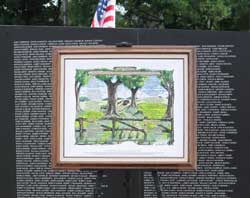 This is The Solitary Minuteman in front of the Moving Vietnam Memorial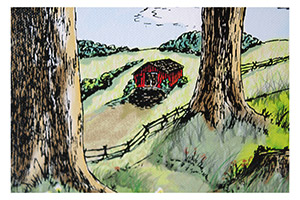 Detail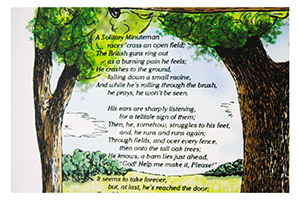 Detail
The Poem and Art Work A Solitary Minuteman is an important piece because it addresses the fact that those who founded what is known as The United States of America cared about their unborn descendants, and, as we see from the Statement of Purpose of the Constitution of the United States of America at the bottom edge of this work, they named their unborn descendants —their posterity— to receive the exact same "Blessings of Liberty" as "ourselves".
Currently, the descendants of our Founders (and of others who have fought and even died for this nation), are NOT protected from extermination by the people who now have the audacity to call themselves people of the United States. This work was created to make sure we never forget that our Founders specifically named their unborn descendants, in the Constitution, to benefit from their sacrafice, and this nation is required to protect their posterity according to the Constitution of the United States of America.
Please, purchase and display one of these works and help us protect the posterity, the unborn descendants, of the people of the United States.
---
LAST UPDATED: April 14, 2019